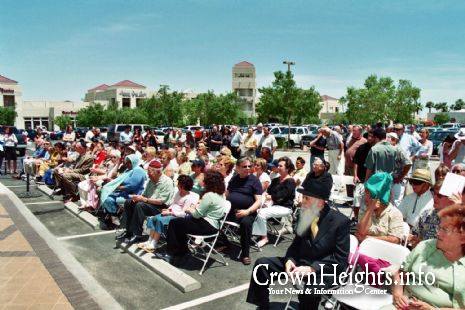 The Jewish Journal
Las Vegas, NV — Across the parking lot of the neighborhood pub/casino in the Summerlin suburb of Las Vegas, Jewish residents, community leaders, local officials and passersby stood in the 110-degree heat recently to watch the ribbon-cutting ceremony of a new Chabad shul.

The imposing $4.5 million structure, built from Jerusalem stone, stands at the corner of an outdoor shopping mall, not far from a day spa, French bistro, lakefront clubhouse and residential communities that boast one of the fastest-growing Jewish populations in the United States.
The new shul is a testament to the Jewish community's growth in the area, which already houses another equally large Chabad campus close to the Las Vegas Strip.
Chabad of Summerlin, located about 12 miles northwest of the Strip, first made its appearance in the community about 10 years ago, when it held Shabbat and holiday services in a storefront. The number of congregants grew over the years, until some people had no choice but to pray standing in the aisles. Rabbi Yisroel Schanowitz, the shul's rabbi, hopes that the new Chabad of Summerlin will "continue the growth of the Las Vegas Jewish community and also build strong youth activities."
Chabad recently hired a couple from New York to assist with youth programming to make the shul experience in Las Vegas more holistic and diverse. They now have the facilities to do so: classrooms, offices, social hall, kitchen and a mikvah. The woman's balcony of the new shul overlooks the spacious sanctuary and the delicate woodwork of the ark of the Torah.
At the opening, Rep. Shelley Berkley (D-Nevada) addressed the crowd, sharing her positive experiences with Chabad and praising it for its contributions to Las Vegas.
While Jewish tourists are more likely to use the Chabad campus near the Strip for services, Schanowitz believes that Chabad of Summerlin is more likely to draw visitors seeking to make their home in Vegas.
"There has been interest from people in Los Angeles to relocate here," he said. "When they find out there is an active Chabad center, it helps their decision to move."