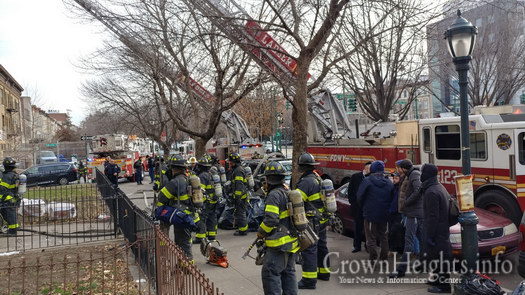 A fire broke out this morning in the basement of an apartment building on Eastern Parkway, forcing the evacuation of multiple families as temperatures plunged below freezing in New York City.
The fire broke out at around 10:50am in the basement of 781 Eastern Parkway, on the corner of Kingston Avenue, which forced the evacuation of nearly all the 14 residential units, as well as the bank on the first floor.
Sources said that there appeared to be some work being done in the basement, and that may have been the cause of the blaze.
Mothers were seen fleeing the building while hold young children and infants, as temperatures in New York City plunged into the teens and are expected to remain this low for the next ten days. Neighbors took in those displaced by the fire.
Update 5:19pm: Building managers reached out to CrownHeights.info and informed us that the incident was not a fire, rather it was smoke caused by workers replacing a boiler in the building. "As of 4:00pm all residents have returned to their apartments and all damage caused by FDNY operations have been repaired" he said.