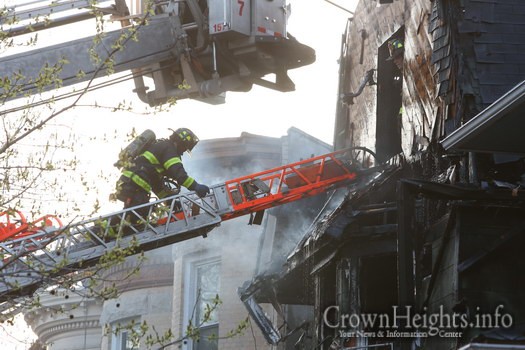 An elderly and disabled woman was killed when a fast moving fire tore through her home on Fenimore Street.
The fire broke out on Monday evening at 6:06pm in the second floor of 203 Fenimore Street. Fire fighters arrived within 2 minutes and quickly upgraded the call to a two-alarm-fire due to heavy fire conditions that engulfed the entire attic and parts of the second floor of the house.
Rescue personal received a report that a woman was inside the house, but were unable to save her.
Neighbors said that the woman was in her 70's and was disabled. Her adult son, who lives with her in the house, was able to escape the flames and was seen standing in front of the burning home being comforted by neighbors.
A neighbor, who was in his backyard when the fire broke out, was overcome by smoke and was taken to a nearby hospital. Additionally, eight firefighters suffered minor injuries related to the fire and were taken to Cornell Medical Center and Kings County Hospital.
"The fire was deemed suspicious due to the amount of fire, but it is just routine procedure. We will know more once the marshals investigate and determine the exact cause of the fire" said a spokesman with the FDNY.