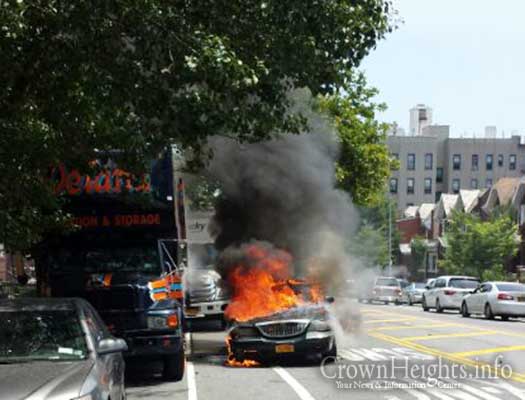 Taxi Goes Up in Flames, Sets Moving Truck on Fire
A livery taxi cab went up in flames on Empire Boulevard near Albany Avenue this afternoon, setting a moving truck partially-filled with a Crown Heights resident's possessions ablaze as well.
The incident occurred at around 12:15pm in front of 701 Empire Boulevard in Crown Heights.
The driver of a black Lincoln Town Car noticed his car was smoking, so he pulled over close to a parked moving truck. Within seconds, the smoke turned into roaring flames which began shooting out from under the hood of the cab.
In the few minutes it took firefighters to arrive at the scene, the cab was almost completely consumed in flames, and the side of the truck was on fire as well.
Witnesses told CrownHeights.info that the moving truck was half full with the belongings of a resident of 701 Empire, who was moving out of the building. Although the truck itself sustained relatively little damage, much of the resident's belongings were destroyed in the fire.