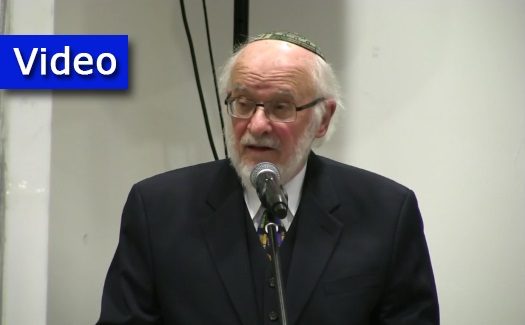 In Honor of Hey Teives, this past Tuesday a seudas hodo'oh and farbrengen were held at the Od Yosef Chai Centre in London, attended by over 400 men, women and children. Attending the event was attorney Nathan Lewin, who told the story of Hey Teves from an insider's perspective (full video in the extended article).
The event was organized by Reb Getzel Itzinger, an askan and supporter of Chabad mosdos in the UK, and Rabbi Sholem Ber Sudak of Lubavitch UK, who – together with all local Lubavitch shuls: Reb Yechiel Wilhelm of Heichal Mencham, Reb Yitzchok Nussbaum of Beis Gavriel, Rabbi Zalman Sudak of Lubavitch of Edgware and Rabbi Avrom Weiss of Yeshiva Gedola – formed a vaad to make this event the success it was.
The evening was emceed by Reb Getzel Itzinger, who kept the crowd entertained as his words led into videos of Hey Teives. Shliach of the Rebbe to Denmark, Rabbi Yitzy Loewenthal, opened the evening with his memories of Hei Teives as a Bochur.
The main talk was given by lead lawyer in the seforim case, Mr. Nathan Lewin, who came to London especially for this occasion. Mr. Lewin brought the case alive and kept the crowd enthralled with his description of the case, and other interactions he had with the legal system on behalf of Lubavitch and other Jewish causes, most recently securing permission for a public menorah to be put up this year.
This was followed by a farbrengen until 4:30am led by Shliach of the Rebbe to Connecticut, Rabbi Yisreol Deren, who extended his stay in London at late notice for this farbrengen.
On Wednesday Evening an upscale event was held at Chabad of Belgravia, organized by Rabbi Mendel Kalmanson, where Mr. Lewin gave two talks: one on the menorah cases and one on the seforim case, followed by a Q&A session from the businesspeople and lawyers.
As Mr. Lewin was in London, and heavily involved in defending the rights to public menorah lightings, he was honored to light Europe's largest menorah, which is organized every year by Tzivos Hashem UK.