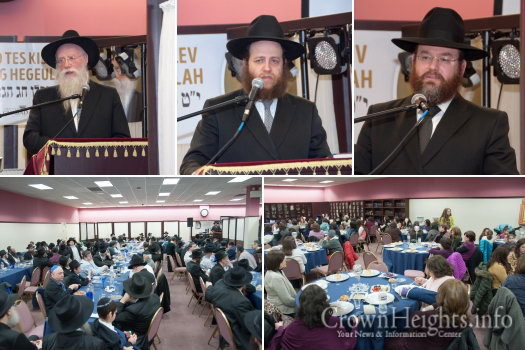 Over 300 people participated in Chicago's annual Yud Tes Kislev farbrengen, which was held on Monday Night at The Bellows Center-F.R.E.E. of Chicago.
Rabbonim, Shluchim Anash and members of the greater Chicago Community participated.
The event was chaired by Rabbi Levi Notik of the F.R.E.E. organization, which hosted the Farbrengen
The guest speaker, Rabbi Chaim Schochet, Rabbi of Kehillas Anshei Sefard of Wesley Hills, NY, addressed the crowed, speaking of the many aspects of Yud Tes Kislev and the importance of learning Chasidus
Chaisidic pianist Reb Yisroel Dovid Benjamin on the keyboard inspired the participants with Chasidishe Music throughout the evening.
In honor of upcoming 30 years of Hey Teves, a pecial raffle was held in which the winner received a trip to the Rebbe for Hey Teves, graciously sponsored by Dovid and Lifsha Weissman.
Greetings were given by Rabbi Shmuel Notik, Executive Director of F.R.E.E. and leader of the Russian-Jewish community, as well as by Rabbi Baruch Hertz, Rov of Congregation Bnei Ruven.
Rabbi Yosef Cohen, Mashpia of Ohr Eliyahu Lubavitch Mesivta of Chicago, made a Siyum on Tanya, followed by Rabbi Meir Moscowitz, Head Shliach of Illinois, who spoke about the many Chanukah Mivtzoim opportunities available throughout the state.
During the course of the evening, a Chalukas Hashas for the coming year was arranged by Rabbi Akiva Goodman.
After the formal portion of the evening concluded, many stayed on well into the night to Farbreng, enthralled by Rabbi Schochet's stories and engaging Chaisdishe vertlach.