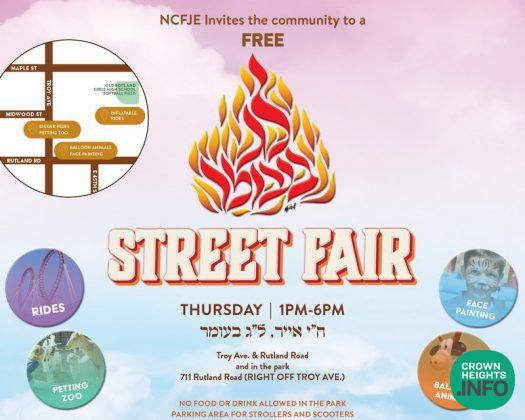 NCFJE and MASK Partner for This Years Lag B'Omer Street Fair in Crown Heights
"It has always been my dream to do something like this" says Rabbi Shimon Hecht of the NCFJE (National Committee for the Furtherance of Jewish Education).
The NCFJE, an organization run by Rabbi Hecht's illustrious father, Rabbi JJ Hecht OBM, until his untimely passing in 1990, has been organizing Lag B'Omer parades, rallies and outings for the community since 1943. This year, thanks to a partnership with MASK (Mothers and Fathers Aligned Saving Kids) and the Interborough Developmental & Consultation Center & LSA Recovery, a fair will be held for the Crown Heights Community – free of charge.
Ruchama Bistritsky-Clapman, the founder and director of MASK which sponsors after-school activities in the community, pointed out that this is something especially necessary this year, after 2 years of local parks being closed on Lag B'Omer due to the Covid-19 pandemic. "We believe the celebration of Lag B'Omer is for children to have a day of fun in the park, and are happy to be able to collaborate to make it happen."
Families are invited to come and enjoy the rides, petting zoo, balloon animals, face painting and more from 1pm-6pm in The Old Boys and Girls High School Park, 711 Rutland Road (entrance to the park on Rutland Rd right past Troy Ave). There will also be larger rides on Troy Ave. between Rutland Rd and Midwood St.
This is in addition to the children's rally organized by NCFJE which will be taking place in the same park at 10:45am, and can be watched live at chabad.org/rally
In Hayom Yom, the Rebbe writes that Lag B'Omer was always a special day by Chassidim, so much so that they would wait the entire year looking forward to Lag B'Omer, when they would go out to the field and great miracles would occur, especially in regard to children. It is considered a great zchus to contribute to the expenses of Lag B'Omer celebrations, you can contribute here: https://secure.givelively.org/donate/national-committee-for-the-furtherance-of-jewish-ed/lag-b-omer
Food and drink should not be brought into the park.
There will be a parking area for strollers and scooters.
Please note street closures from 8am until 7pm:
Troy Ave. will be closed from Hawthorne through Maple St
Rutland Rd will be closed from Albany Ave through Schenectady Ave
Midwood St will be closed from Troy Ave through Albany Ave
Street Closures from 10am-12:15pm:
Maple St from Albany Ave through Schenectady Ave