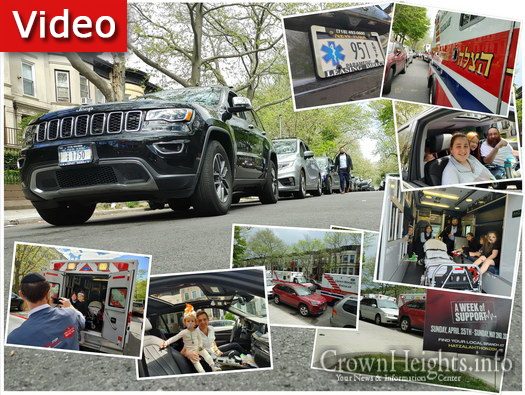 by CrownHeights.info
It wasn't just a regular thank you, it was a double thank you.
Volunteers from Crown Heights Hatzalah gave thanks to the community – and received a thank you in return – Friday afternoon, as they paraded through the streets of Crown Heights blaring a message of thanks to those who rose to the occasion and supported the organization.
After two hard weeks where each Hatzalah volunteer worked hard to spread the word, Crown Heights Hatzalah reached a record-breaking $2.2 Million dollars raised towards its first-ever headquarters.
The "Excitement is Building" campaign, run in conjecture with this year's Hatzalah-Thon is still working to reach their $2.5 Million goal, but even by Friday, a Thank You to the community was in order.
Yet there was another thank you taking place, one to the families of the Hatzalah volunteers. Children, many of whom watch their fathers run out the door during shabbos meals or all hours of every day, had a chance to be a part of the parade, enjoying the moment and receiving their own thank you.
While Hatzalah-Thon may have ended, Crown Heights Hatzalah is still accepting donations Here, and there still remain dedications available for Hatzalah's new headquarters.