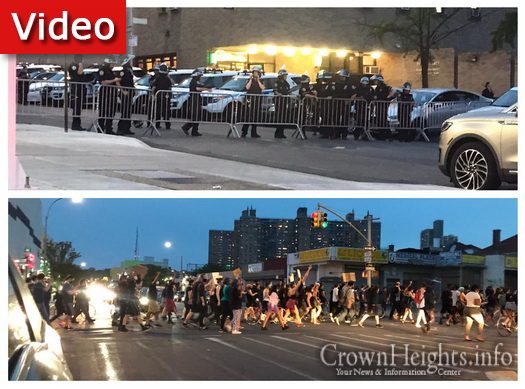 by CrownHeights.info
Tonight, it's Brooklyn's turn.
While previous night of riots and protests focused primarily in Manhattan, tonight, the police have shut down the bridges, directing the protesters to stay within Brooklyn.
This means that large groups of protesters, who are at present peaceful, are roaming the streets of the borough.
One group was making it's way up Rogers Ave around 8:30pm, passing within a few blocks of the 71st Precinct on New York Ave and Empire Blvd.
In preparation for the possibility of the groups visit, the 71st precinct cleared the area in front of the Precinct, geared up and stood outside. The visit was not to be, as the group continued up Rogers Ave to Crown Street, where they turned away from Crown Heights.