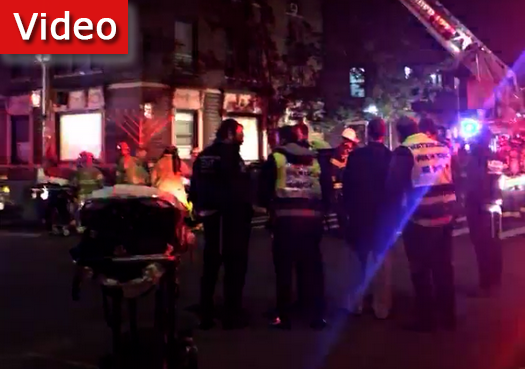 by CrownHeights.info
Just after 1:30am Shabbos morning fire trucks and ambulances began converging on a building on the corner of Crown St and Albany Ave in Crown Heights. The building, which hosts Machon Chana, also hosts two shuls. The kitchen of the Beis Levi Yitzchak Shul, known for hosting L'Chaims and daily Minyanim, was on fire.
The blaze, possibly started by a malfunctioning hot plate, had already spread beyond the kitchen and into other apartments.
Firefighters began extinguishing the fire, but were forced to cut a hole in the roof, and drench the apartments above the shul.
Hatzalah responded to the scene but thankfully were not needed.
Mispallelim of the shul arrived Shabbos morning to find their kitchen a burned mess, but were able to conduct regular shabbos davening despite the smell.
Fire in Apartment Building @CitizenApp

556 Crown Street 1:41:05 AM EDT