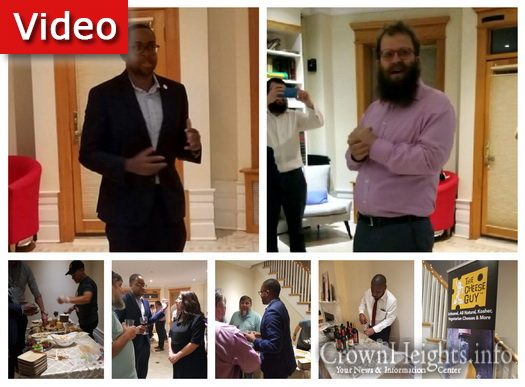 State Senator Visits Crown Heights, Speaks with Local Leaders
State Senator, Zellnor Myrie, visited Crown Heights Wednesday evening, speaking with local activists and leaders. Myrie represents New York States 20th District, which covers a large section of Brooklyn, including Crown Heights.
by CrownHeights.info
A special meet and and greet was held in Crown Heights Wednesday evening, with the Honorable State Senator Zellnor Myrie.
Zellnor Myrie is the New York State Senator representing Crown Heights, he assumed office in January 2019. A member of the Democratic Party, he represents District 20, which covers a large section of Brooklyn, including Crown Heights, Prospect-Lefferts Gardens, Brownsville, East Flatbush, Prospects Heights, and more.
Senator Myrie was warmly received by nearly 50 diverse members of the Crown Heights Jewish community, including blue collar workers, lawyers, doctors, landlords, tenants, and heads of non profits.
The event was opened by Rabbi Yaacov Behrman, who hosted the event at his home in Crown Heights. Rabbi Behrman highlighted the importance of cooperation between the local community and their representatives in Albany. He spoke about the diversity found in the Crown Heights community, and the unity on Israel and the autonomy of Yeshivos.
Rabbi Mendy Margolin, one of the organizers of the event, gave an invocation and blessing for the Senator and the community.
Senator Myrie spoke about the shared responsibility of the wider Crown Heights community and its leaders to take a stance against gun violence, and remain unified despite its wide range of cultures. He also noted the need of affordable housing and healthcare for the residents of Crown Heights.
The event included a Wine bar, assorted Artisan Cheese by The Cheese Guy, and smoked fish from Benz's.
A special thanks to the members of the invite committee, including Yankee Pearson, and Mendy Weisz.