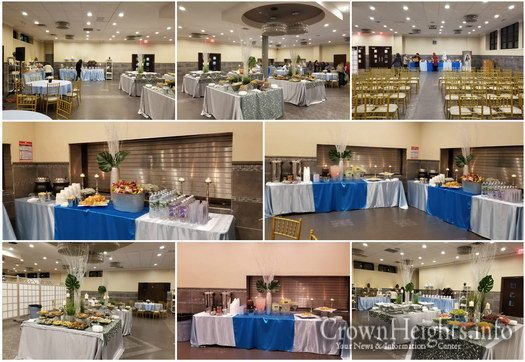 The N`shei Ubnos Chabad Mivtzoim committee would like to thank all those that came out to support the " 10 Points of Light " Mivtzoim auction. Although it was cold and snowy outside, the atmosphere inside was warm and beautiful.
Mrs.Chana Marozow, head of the Mivtzoim committee gave us insight into the history of the N'shei Mivtzoim. The women began their Mivtzoim route with those that waited on line for dollars, every Sunday. From once a week it grew to an amazing organization where women go on mivtzoim on a daily basis. She also stressed the powerful message of the Rebbe that when we go on mivtzoim, The Rebbe comes with us and blesses us in all our endeavors. The Rebbe's mivtzoim brings us every day, one step closer to Moshiach.
The "Tambourines dance Academy" directed by Leah Raskin (Shemtov) entertained us with the beautiful Mivtzoim song and dance. A musical performance was given by Clara Landsman and her team. We heard words of inspiration by our guest speaker Sara Karmely and our auctioneer Miriam Friedfertig enhanced the evening.
We thank Nechama Samuels for her tireless work on the beautiful decor and food, Miriam Goodman, and Sinora Hasdi and a team of devoted ladies for the delicious food.
A very special thank you to all the devoted ladies of the mivtzoim committee who helped make our first auction a true success.
List of Winners
1) A dollar from the Rebbe: Shoshana Friedman
2) Elle Sheitel: Devora New
3 )Sterling silver candlesticks: A.Z. Goldin
4) $ 500 visa card: Tamar Holtzman
5) Kirsh jeweler: Aaron Wilshansky
6) Doona package plus: Shmuel and Chana Tenenbaum
7) The perfect pendant by Tzfasman: Bella Rubashkin
8) Leather Tehilim with inserted fabric from The Rebbe: Leah Raskin
9) Luxury ladies package: Rivky Fellig
10) Open your eyes package: Chaya Tzivia Azuliel
11) Men's package: Rosie Wolwosky
12) Pesach package: Blumie Chanin
13) Shabbos package: Nechama Abelsky
14) Children chinuch package: Tzivia Jacobson
15) Dine in Dine out : Rivky Shifrin
16) Jackpot 1: Fraidy Liberov, Jackpot 2: Leah Raskin
17) Silvercross ultra compact stroller: Rochel Bernstein
18) Mezuza Package: Leah Raskin
19) Split the pot: Sarah Kohen
20) Tora kvius package: Chaya Strassberg
21) Bas melech Package: Rivky Fellig
22) Girls gift package: Fraida Vaisfiche