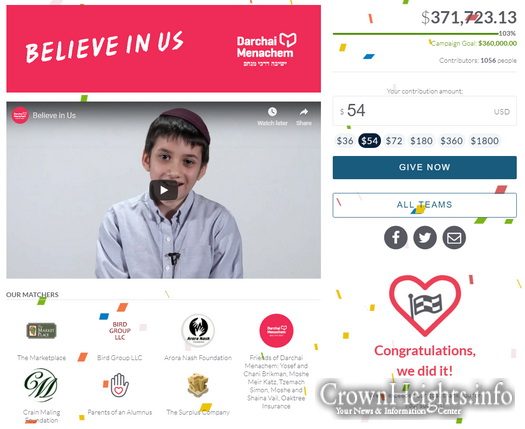 Fundraising campaigns are not easy to pull off. For the weeks leading up, there is intense anticipation: securing matchers, preparing marketing material, putting together calling lists.
Then the campaign launches. For 36 hours, everyone's entire focus is on the campaign. The shul is transformed into an around-the-clock call center. "Hi, I'm calling from Darchai Menachem," can be heard from around the room. Trays of hot food donated generously by the Abikasis family from Mendy's the first night and Mozzerella the second night keeps everyone full and happy.
"Usually, campaigns can be stressful," says Rabbi Eyal Bension, director of the school. "But here, I saw such unity, such excitement."
Progress throughout the 36 hours was closely followed. Worried cries of "50% to go. Do you think we'll make it?" turned into "Just 5% left. We can DO THIS!"
Flow Motion Studios (www.flowmotion.tv) went above and beyond to create a video that shares the story of Darchai's students. A screen in the hallway played the video on repeat until, at one point during the campaign, the volume had to be muted because of the constant crowds.
Thank you to the students, parents, and staff who showed their commitment by coming to school and making phone calls. Parents forwarded videos, pictures, and donation requests to Whatsapp groups; they posted on Facebook, created stories on Instagram. Student, staff, and parents came back to school and stayed until as late as 10pm two nights in a row–all because they wanted to make sure Darchai Menachem would reach their goal.
"This campaign is just the beginning," ends Rabbi Bension. "We need to turn this material blessing into a spiritual one, raising students with Torah and Yiras shomayim according to the path of chassidus."
Thank you to the Crown Heights community for opening your hearts and wallets. Thank you for believing in our boys.