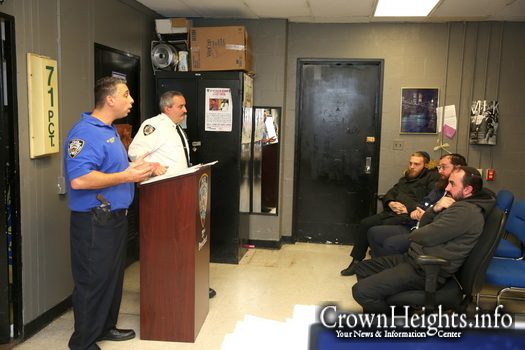 A security briefing as held in the 71st Police precinct in Crown Heights, with discussion on the recent string of attacks on Jewish residence. In attendance were representatives from the local volunteer organizations.
by crownheights.info
A security briefing was held in the 71st precinct Thursday night, following a recent uptick in assaults against Jewish residence.
The police departments community affairs division led the meeting, and spoke about the importance of community involvement in crime fighting.
Each of the recent attacks were brought up in detail, along with what the 71st precinct is doing to prevent more incidence from occurring.
Volunteers from Crown Heights Shomrim, and the 71st precinct based Civilian Observation Patrol attended the meeting, and were thanked for their volunteer work.
Special focus was placed on the need for continued community involvement, and legal follow up to prosecute those arrested for crimes.
The 71st precinct has promised additional patrols, and extra police presence for the next few weeks.