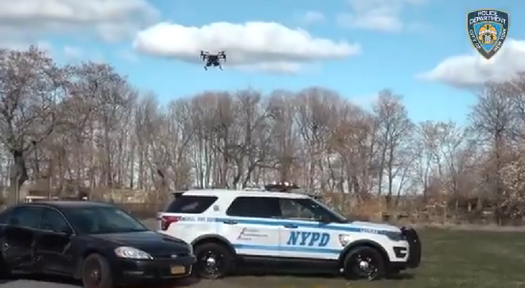 The NYPD has just unleashed their fleet of drones to help crime fighting in NYC. The new drones, of various sizes, will be a sigh of relief from residence of high crime areas as a possible replacement for the loud helicopters presently used.
by crownheights.info
We can all recognize the loud and impossible to ignore sound of an NYPD helicopter hovering above your home, or circling the neighborhood. Now you may soon give a sigh of relief, as the NYPD releases its fleet of drones that will fly in the air over NYC.
The drones of various sizes, have multiple applications, including surveillance, and a fast, mobile response.
Drones are already in use by the FDNY at large fires, and has proven successful in seeing hard to reach spots in a fire.
Drone technology joins a long list of tools at the NYPD's disposal during emergency situations. All of which help the men and women in blue uphold their mission — to protect every New Yorker. pic.twitter.com/6wluH2044O

— Chief Terence Monahan (@NYPDChiefofDept) December 5, 2018