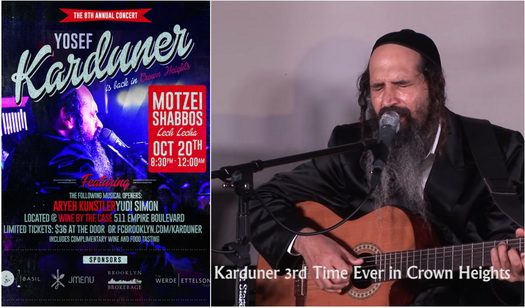 After a packed house the past 7 years, Breslov musician Yosef Karduner is returning to Crown Heights for an eighth performance.
Yosef Karduner, world famous musician and performer, will be coming to Crown Heights this Motzei Shabbat (Saturday, October 20th).
Karduner played for a packed house in Crown Heights venues in the past. The show received largely positive reviews and due to the demand, a new show has been planned for this year, at Wine by the Case (511 Empire Boulevard)
The event is being organized by Wine by the Case and Elad Nehorai of Hevria.
Karduner, known for his stirring melodies and legendary musical skills, is on a tour of the United States. His most famous song is Shir Lamaalot, a song he composed after his daily hitbodedut. The song has been covered by the likes of Lipa and Yishai Lapidot.
The event will begin at 8:30 PM on Saturday night and take place at Wine by the case at 511 Empire Boulevard. Tickets are on sale both at the door and pre-order at $36.
Order your tickets at: fcbrooklyn/karduner