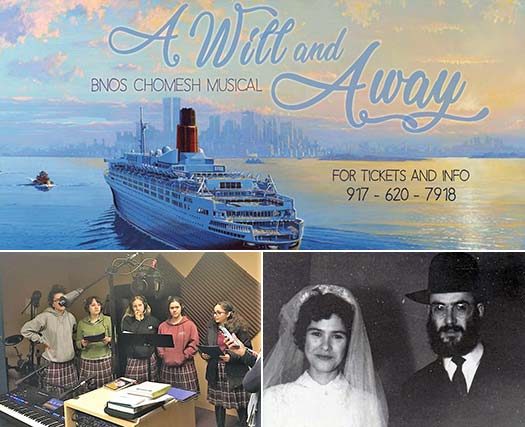 by Noemie Andrusier
As the sun sets, the streets of Crown Heights fill with young girls in different colored pleated-skirt uniform. After a productive day of school, they walk happily toward their homes.
Yet most of our girls don't fully know just how fortunate they are. The large majority who live at home take for granted the luxury of having a quality education right in their neighborhood, never having to leave the comforts of home.
As I was trying to convey this idea to my daughter, I felt the importance of telling her about my mother's story. Not wanting her to take her Chinuch for granted, I recalled my mother's trials and tribulations when she had to travel so far from her home to receive a chassidishe chinuch. It was then that I realized that this was a message that was relevant not only to my daughter, but to all of our wonderful girls who might not realize the treasure they have at their fingertips. And what better way to share this message than through song and dance?
It was from this idea that Bnos Chomesh's upcoming production, "A Will and Away", was born. The play is a story of my mother's struggles and perseverance; her endless persistence in trying to get a yiddishe education at all costs.
While drama was rehearsed and dances practiced, a very talented team was working hard behind the scenes to coordinate the technical aspects of production. The venue was being confirmed, the flyer designed, the costumes coordinated. And when the official flyer announcement was sent to me, I noticed something that took my breath away.
The production is scheduled to take place on January 28, the 12th of Shvat- the date of my parents' anniversary!
It is not only a tribute to my mother and the mesiras nefesh of her family, it is also an uplifting and inspiring message, but I don't want to spoil it for you! You will have to see the production to fully understand what an incredible hashgacha protis this is.
This Sunday January 28, the 12th of Shvat join Bnos Chomesh for an exciting and heart warming experience, one that I hope will remain with you for a long time to come.​