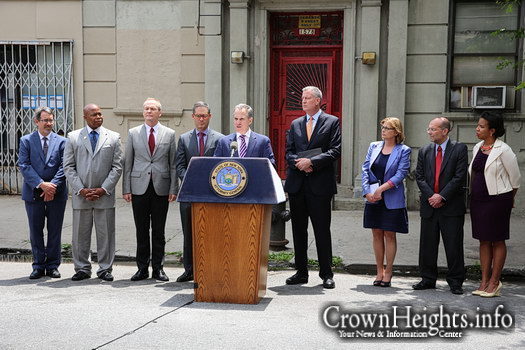 Mayor de Blasio and A.G. Schneiderman announce the charges in front of the building in June of 2016.
From the Brooklyn Eagle:
A Brooklyn judge promised jail time to Daniel Melamed, a real estate developer who pleaded guilty on Monday to fraud and grand larceny charges connected to unlawful eviction of his Crown Heights tenants.
Melamed was previously convicted in a June Brooklyn Supreme Court bench trial for pushing out rent-controlled tenants from his building at 1578 Union St. near Troy Avenue. Evidence found he illegally shut off heat, deprived tenants of services and exposed them to lead dust from construction in a scheme to benefit from higher rents on new tenants.
Separate scams between 2011 and 2014 where Melamed defrauded banks landed him at his Monday court appearance. His guilty plea is in conjunction with a promised sentence of 30 days in jail and five years on probation.