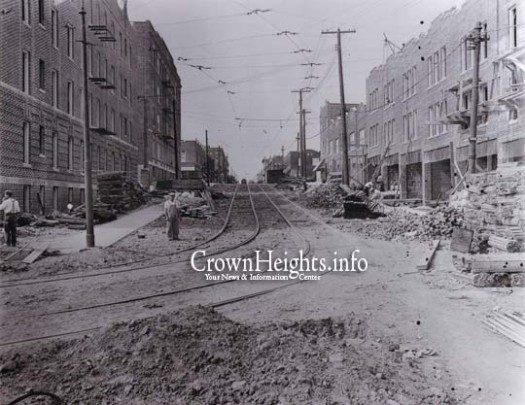 The trolley line curving north from Empire Blvd. up Kingston Ave., pictured as the area was being built in 1923.
70 Years Ago: Kingston Ave. Trolley's Last Ride
Yesterday marked 70 years since the discontinuation of the trolley that ran up and down Kingston Avenue, known as the Tompkins Avenue line, which saw its final ride on August 24, 1947, after which it was replaced with bus service.
Running along Empire Boulevard, Kingston Avenue, and Tompkins Avenue, the line provided service between the Prospect Lefferts Gardens and Williamsburg neighborhoods in Brooklyn.
In 1995, the B47 bus route merged with the B62 bus route to form the B43 route. The B43 route continues to operate today between Prospect Lefferts Gardens and Greenpoint.
Below are NYTM Collection archival images that depict trolleys in regular service on the Tompkins Avenue trolley line between 1930 and 1947.
Do you remember riding the Brooklyn trolley system? Tell us one of your favorite NYC trolley memories in the comments below.