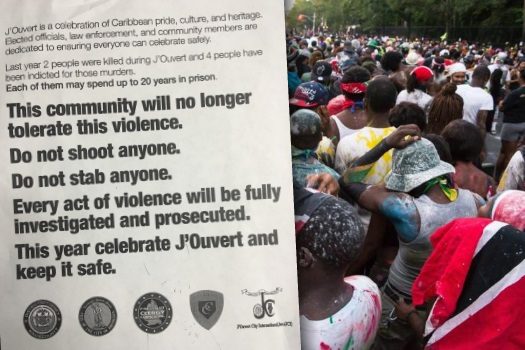 J'Ouvert Moved to Daylight This Year Following Violence
From DNAinfo by Rachel Holliday Smith:
After years of violence at the pre-dawn Caribbean festival of J'Ouvert, organizers and officials said the celebration will take place during daylight hours this year.
The Labor Day event, which is a precursor to Carnival and the West Indian Day Parade on Eastern Parkway, has been marred by fatal shootings for three years in a row, including the death of Gov. Andrew Cuomo's aide Carey Gabay in 2015.
In response, the NYPD and those responsible for the official J'Ouvert parade are moving the festivities to 6 a.m., rather than its previous 4 a.m. start time, according to Police Commissioner James O'Neill.
"We've been working on this since the day after J'Ouvert last year, working with the community, working with [Brooklyn Borough President] Eric Adams, Laurie Cumbo from the City Council, with the community and the people who run the J'Ouvert parade. This is the best decision going forward to try to keep people as safe as possible," he said on Friday at an unrelated NYPD event.