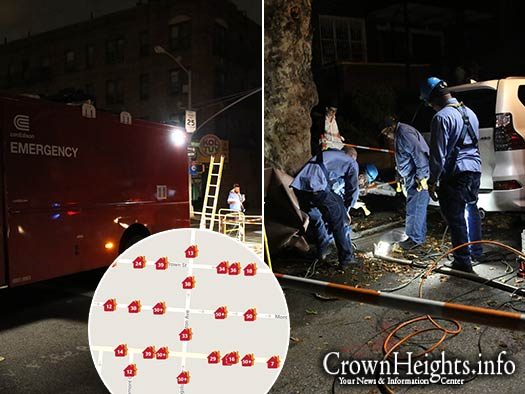 800 Without Electricity After Underground Fire
Some 800 homes in Crown Heights are without power following two underground fires on Wednesday afternoon.
At around 4:00pm an explosion was heard on Albany Avenue near Montgomery Street quickly followed by another on Empire Boulevard and Kingston Avenue. Many homes in the vicinity either lost part or all their electricity.
ConEdison crews responded to the area within the hour and got to work repairing the damaged electrical grid. The fires sources said was the result of overload on the 90 year old cables, which in turn caused a fire.
"There was new cables in almost all the [street] boxes" said one of the workers, "it was just not connected, the entire area was running on just one main which was installed in 1932." There should be a minimum of two mains to carry the electrical load and prevent such a failure.
Initially ConEd was telling customers that the electric service will be restored by 7:00pm, but a more realistic time would be sometime during the night. "I could be just a few hours or by morning," one worker said at 10:30pm.
Residents were seen sitting on their porches reading books with the aid of flashlights, while others watched the hard working crews reconnecting new cabling. Others just stood with neighbors and spent the hot evening hours and conversed.
Residents were also seen giving bottled water and ices to the workers.
The areas affected by the outage is from Lefferts Avenue to Crown Street and from Brooklyn Avenue to Albany Avenues.