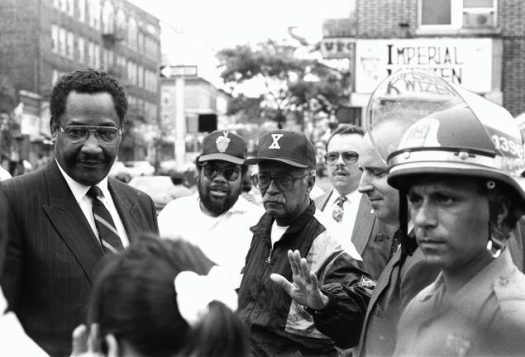 Mayor David Dinkins (center), Deputy Mayor Bill Lynch (second from left) and NYPD Commissioner Lee Brown (left) at the scene of the 1991 Crown Heights riots.
25 Years Since the Riots: Police Chief Denies Cops Were Told to Stand Down
Lee Brown, who served as NYPD Commissioner under Mayor David Dinkins when the Crown Heights riots broke out exactly 25 years ago, told the NY Daily News in an interview that claims that the police were told to use restraint and "let the protesters vent their anger" are simply not true.
From the NY Daily News:
He's known as the "Father of Community Policing," but for New Yorkers of a certain age, former Police Commissioner Lee Brown's name is also synonymous with the Crown Heights riots that ripped the city apart 25 years ago this week.
Born in Oklahoma in 1937, the son of sharecroppers, Brown blazed an impressive trail through the ranks of various law enforcement agencies before he became the city's top cop in 1990.
Brown, then 52, was the second African-American police commissioner in the city's history, after Benjamin Ward, who held the title from 1984 to 1989.
The appointment of Brown, at the hand of the city's first black mayor, David Dinkins, was meant to signal change was afoot between the NYPD and communities of color.