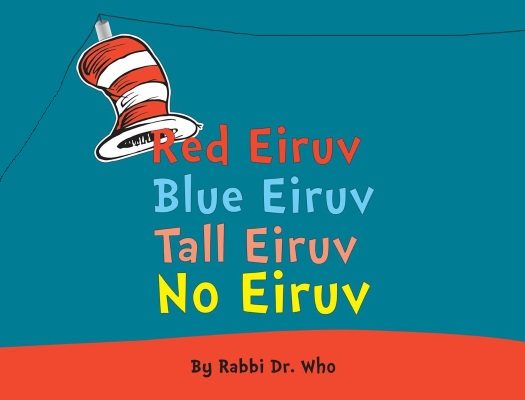 A tense religious dispute between Orthodox Jews in Crown Heights over a new eruv is now getting it's first literary treatment — as a Dr. Seuss-style poem.
From The Forward:
"Red eruv, blue eruv, tall, eruv, no eruv," the poem is called, penned by "Rabbi Dr. Who," and is largely a call for peace.
"What good is it — this tit for tat, to ridicule a Yid like that?" the poem reads. "Just give a kush, I'll hug you back."
The 14-stanza illustrated poem is a creation of two Crown Heights Lubavitchers, Moshe Kravitsky, the writer, and Shmuli Evers, the illustrator. It amounts to a literary commentary on the still-brewing controversy around a disputed ritual boundary in the neighborhood.
Eruvs are wires that allow Orthodox Jews to carry goods on the Sabbath. The one in Crown Heights is controversial because Modern Orthodox Jews created it but many Lubavitcher rabbis oppose it.
Click here to continue reading at The Forward.
The full poem, composed by Moshe Kravitsky, reads as follows:
I would not carry in the street
I would not carry a treat to eat
I would not lift my son up High
I would not yell out "Look, He's Fry"
I do not wish to start a fight
I do not wish to say I'm right
I do not wish to act in spite
I wish to lift our Yiddishkeit
What good is it to point and blame
To watch the Heights rise up in flames
No matter who you wish to shame
I will not play this little game
Of course there is a right and wrong
And yes I know you've heard the song
The one Rabbonim all along
Have sung to keep us "Chossid-Strong"
But I want this and you want that
What good is it — this tit for tat
To ridicule a Yid like that
Just give a kush
I'll hug you back
It is the kids I fear today
Will get confused from all we say
For even once we walk away
The hatred in their mind will stay
It tears us up, these hatred seeds
And suddenly, the garden's weeds
The flowers welt in moments like these
Remember my friends
We are G-D's Needs
The Monsey Rov that boasts "YOU SHOULD!"
Has sadly added firewood
To live so far and preach "it's good"
to paskan on OUR neighborhood?
Oh me oh my – the Monsey Rov
Though I believe he meant with love
This test that came from up above
Will try to turn our push to shove
Dear Rebbe how we long for You
To smile and show us what to do
With just one wave of just one arm
To lift us up away from harm
My brother hear me – here and now
Stay Chossid-strong and chossid-proud
And let the world look up not down
The highest Heights – the brightest Crown
U'vacharta B'chaim Please choose the sweet
I would not carry in the street
But not because YOU'RE not elite
It's cause the Rebbe made concrete
A Crown Heights Eruv no matter how neat
Will only confuse – and breed deceit
But gollus is hard, it tires my feet
The streets are dark — so dark the streets
Please take my hand, two hearts one beat
Geulah THIS way, and gollus COMPLETE
Artwork design by the masterful Shmuli Evers.