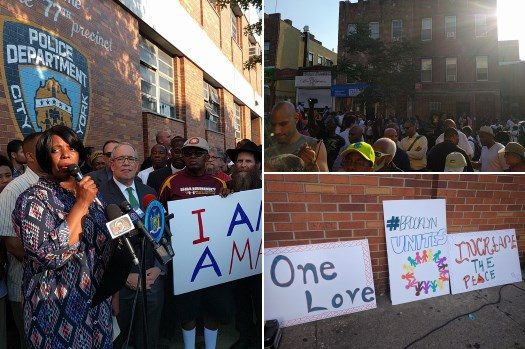 Photos by Rachel Holiday Smith
by Rachel Holiday Smith – DNAinfo
The neighborhood of Crown Heights came together Tuesday evening for a march to try to find common ground in the face of recent violence against both black men and police officers nationwide.
More than 100 people met in front of the 77th Precinct at 127 Utica Ave. in Crown Heights for the "Unity in the Community" walk, which ended at Lincoln Terrace Park about eight blocks south of the station house.
Many elected officials participated in the event, including Assemblywomen Latrice Walker of Brownsville, Jo Anne Simon of Brooklyn Heights and Diana Richardson of Crown Heights, who told the crowd "the truth is, all lives matter."
"We believe that there can be a partnership between law enforcement, clergy, elected officials and the residents. We believe this is possible. Today we will march in unity. And we are marching, not to give you rhetoric, but … to lead by example of how this can be done," she said.
The event came in the wake of the fatal shootings of five police officers in Dallas, Texas, as well as the deaths of Alton Sterling in Louisiana and Philando Castile in Minnesota last week.
But the violence hit close to home, too. Delrawn Small was fatally shot by an off-duty police officer in East New York on July 4.
"I'm tired of this!" said Mike Tucker of Lay the Guns Down at the rally Tuesday night; Tucker's son was killed by police in 2005. Shouting into a microphone, he called for attendees to push for gun reform, register to vote and get organized locally.
"People are dying out here! People are dying, not just in other states, we're dying every second, every day, right here. Let's start here first," he said.
"We're dealing with this issue in our own backyards," Walker said, adding that Brownsville, one neighborhood in her district, has seen 29 shootings so far in 2016.
The march came a day after people gathered at Grand Army Plaza for a candlelight vigil to honor the victims of last week's violence.