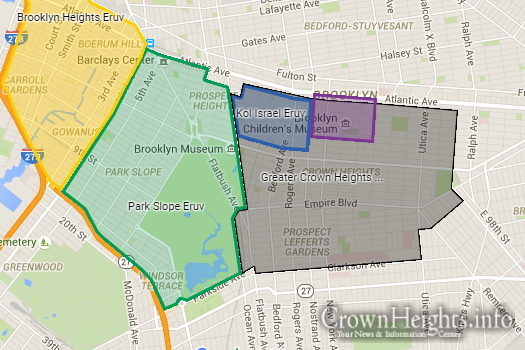 Crown Heights Eruv Vandalized in 20 Places
The controversial new Eruv in Crown Heights has been vandalized and broken in over 20 places, an advocate for the Eruv told The Forward.
From The Forward:
A controversial new eruv designed to serve Modern Orthodox Jews in the traditionally Hasidic Brooklyn neighborhood of Crown Heights was allegedly vandalized — days after rabbis from the Chabad-Lubavitcher group said the ritual barrier was not approved by rabbinic authorities.
The wire that is erected around Orthodox areas allowing for otherwise-prohibited activities on the Sabbath was cut and torn down twice in the last week, members of the growing Modern Orthodox community in the neighborhood said.
"It was broken in 20 places," said Naftali Hanau, a Crown Heights resident who advocated for the new eruv. "This was clearly vandalized."
The first episode of alleged vandalization took place sometime last week, Hanau said. Hanau and other eruv advocates repaired the ritual wire before the Sabbath, but vandals, he said, tore down the eruv again on July 11. The eruv is only three weeks old.
It is not clear who might have damaged the eruv. Hanau said police were notified but there was no word on any suspects.