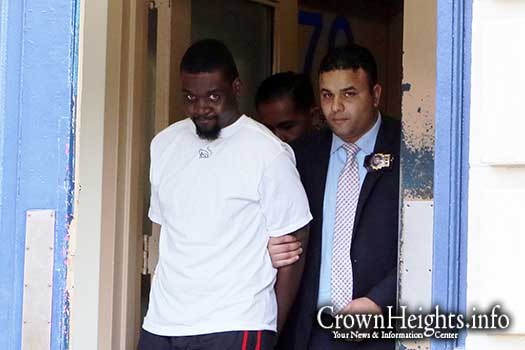 The Brooklyn D.A.'s Office has dropped hate crime charges against Keny Rochelin, the 26-year-old man arrested for the stabbing of Leiby Brickman in Crown Heights one month ago and another two people in Prospect Park last week, saying the suspect is likely suffering from mental illness and didn't stab Brikman because he is Jewish.
According to a report by JP Updates, the top charge in the criminal complaint, which is still sealed because Rochelin hasn't been arraigned yet, will be assault.
In the meantime, Rochelin is in Kings County Hospital undergoing psychiatric evaluation.
An investigation into Rochelin's criminal history reveals a troubling pattern of law-breaking and violence, with several arrests over the past year for turnstile-jumping on the subway and skirting MTA fares, as well as an arrest for shoplifting from a clothing store in Brooklyn.
Even more troubling is an incident which occurred in the Bronx in 2015, in which Rochelin was arrested and charged with assault with intent to cause physical harm with a weapon – a class D felony – for hitting someone over the head multiple times with a metal lock, causing the victim to require ten staples to repair his damaged skull.
The felony charge in that case was subsequently dropped, although five other less-serious charges connected with the incident remained – including menacing to the 2nd and 3rd degree, criminal possession of a weapon with intent to use, assault with intent to cause injury and harassment.
Shockingly, Rochelin was released in that incident "on his own recognizance," (i.e. without any bail requirement). One wonders whether keeping this man off the streets might have been a wiser choice.