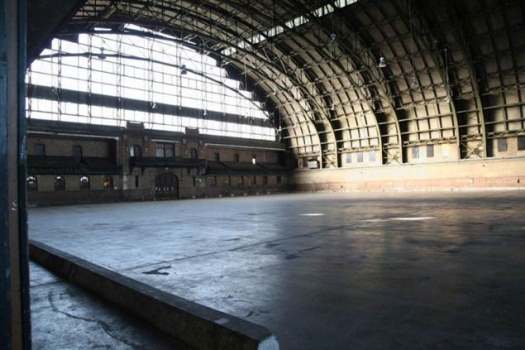 Interior of the Crown Heights Armory.
The Bedford-Union Armory in Crown Heights, which recently hosted Chabad's Kinus Hashlucim workshops and Satmar's 21 Kislev celebrations, will soon be sold to a developer, who plans to tear down the structure and replace it with housing units.
From DNAinfo by Rachel Holiday Smith:
Private townhouses, affordable and market-rate apartments and a new recreation center are coming to the Bedford-Union Armory in Crown Heights, according to multiple people familiar with a plan by the city's Economic Development Corporation.
Part of the 138,000-square-foot former military facility — built in 1903 and acquired by the city in 2013 — will be sold to a private developer to be converted into 12 private townhouses built inside former horse stables located on President Street along the building's south side, the sources said.
Space on the armory's east side currently used as a parking garage will be replaced by a new building to include market-rate and affordable rental units, those with knowledge of the plan said; 50 percent of the planned units will be market-rate, 30 percent will be set aside for middle-income residents and 20 percent for low-income residents.
The size of the proposed apartment building is unclear. Land use rules allow for up to 13 stories.
In addition to the housing components, the armory's main building — with its distinctive domed drill hall on top — will house a new recreational facility, including a swimming pool, three basketball courts and an indoor soccer field, sources said. The center, which will be open to the community, will be operated by CAMBA, a Flatbush-based social service provider and non-profit.