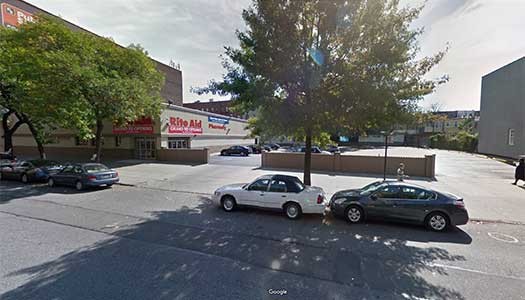 Building Plans Filed for 122 New Apartments
Plans for a seven story 129,724 square foot apartment building on S. Johns Place have been filed with the Department of Buildings, of which 83,789 will be residential and make up 122 apartments averaging around 650 square feet per apartment.
Filed on October 28th, building plans show that the owner of the property located at 1040 S. Johns Place between Kingston and Brooklyn Avenues seek to enlarge the single story building – which currently is occupied by a Rite Aid pharmacy – to a seven story mixed use building.
Plans call for 9,001 square feet of commercial space on the first floor, 29,285 square feet of community facility space on the second floor and 83,789 of residential space on floors 3 through 7 across 122 apartments averaging around 650 square feet per unit.
Pluming plans reveal that all the apartments will have a kitchen with a single sink, a single bathroom and no hookups for washers and dryers. There will be four hookups in the cellar alongside 61 bicycle parking spaces and storage closets. A total of 69 car parking spaces will be available in the existing parking lot, which is less than the 85 spots required by the curent zoning code.
One of the names on the filing reveals that the developer behind the project is Soft Stone Development, a Borough Park-based firm affiliated with controversial investor Chaim Miller reported TheRealDeal.
Speaking to New York YIMBY a representative from the developer said that they intend to build above the drug store instead of demolishing it. They speculated that reason the developer is probably choosing to preserve the Rite Aid because the property isn't zoned for commercial use, and it would be difficult to replace the retail if it were demolished.
Owner of the building is 1040 Properties LLC, which is a cooperation controlled by Dovie Sperlin, who purchased the property in 2004 for $1,875,000.
Sperlin owns dozens of properties in and around Crown Heights, with the number of apartments tallying in the thousands, many of those properties were obtained for little to no cost through renewal and revival programs devised by the City of New York for low income residents.