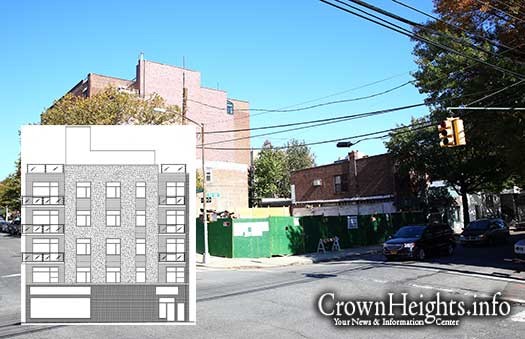 Demolition Makes Way for New Apartment Building
Demolition has begun at the site of a former mechanic shop on East New York Avenue. Developers have filed plans for a new five-story, eight-unit apartment building to take its place.
Purchased in November 2014, Rafael 'Rafi' Manor's M Rental Brooklyn, LLC, paid $900,000 for 521 East New York Avenue, a 3067 square foot lot which sits on the comer of Brooklyn and East New York Avenues. The building formerly housed one residential unit and a mechanic shop.
Demolition of the building began a number of weeks ago and stopped abruptly after the Department of Building cited unsafe conditions at the site, including a missing construction fence and the use of heavy machinery without proper permits, among other issues.
The developer plans to build eight "high-end units" with an average 1,000 square feet per unit and a ground floor "community facility." There are no plans to build any parking space.
This same developer recently completed construction on a piece of undeveloped land at 396 Lefferts Avenue, off New York Avenue, which features four "high end units." They also have plans for an additional two buildings at 742-744 Lefferts Avenue, off Troy Avenue, which will contain a total of ten "high end units."