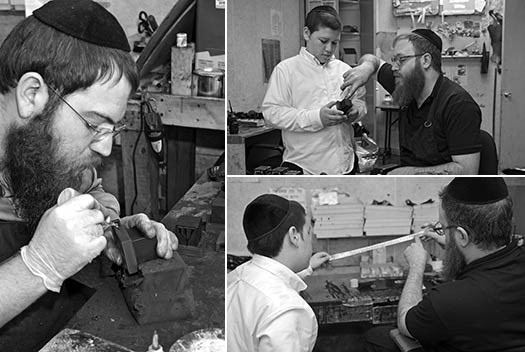 When Menachem Mendel Rosenblum turned 12, his father began calling Sofrim to purchase Tefillin. "I received several estimates over the phone," Rabbi Yisroel Rosenblum recalls, "but one offer stood out."
The New Jersey Shliach had called Rabbi Moshe Klein, a fourth-generation sofer and the owner of Hasofer in Crown Heights. "I expected to be told which Tefillin were in stock and asked for my credit card number." Instead, Yisroel was pleasantly surprised to be invited to visit with his son.
Rabbi Klein's offer was the beginning of a unique Bar Mitzvah adventure for Menachem Mendel and his two brothers.
The Rosenblums visited two weeks later for a private tour of the Safrus workshop. Menachem Mendel observed the labor and care that go into creating his Tefillin. "He watched the sofer writing his Tefillin and actually got to read his own Parshiyos prior to the Sofer rolling and putting them in. They showed him unfinished batim to choose from."
For more than twenty years, Rabbi Klein has welcomed visitors into his quiet workshop, one flight above the Kingston Avenue bustle.  "Our customers want to know where the Tefillin are from, how were they made. They want to know that each Sefer Torah, Tefillin, Mezuza and Megilla is written by a sofer known personally as a Yorei Shomayim and expert. That's why we open our doors so you can observe, ask, see and touch."
According to Zalman Schapiro, administrator at Hasofer, Rabbi Klein ships handpicked Sifrei Torah, Tefillin and Mezuzos to communities around the world including many army bases and prisons. The Crown Heights workshop is also a popular source for Chabad and non-Chabad Tzitzis and Talleisim, personalized embroidery of all kinds, and crowns and accessories for Sifrei Torah.
Rabbi Rosenblum says his family's 45-minute tour has certainly created new excitement in his home. Since the visit, Menachem Mendel "has been edging to go pick up his Tefillin. 'Has the sofer called?' he asks daily. The tour has changed him from a passive recipient to an active participant."
As the business continues to grow, Rabbi Klein says that his offer to the Rosenblums is a standing invitation to all Bar Mitzvah boys. "Parents want their children to value and care for the Mitzvos," he explains, "and to do that you need to know how valuable the Mitzvos truly are!"
Rabbi Rosenblum agrees. "I think every Bar Mitzvah boy should see the process."
Take the Tefillin tour with a group, family or Bar Mitzvah boy: Visit Esofer.com/barmitzvah.
Note: An earlier version of this article incorrectly stated that the visitor got to 'roll his own parshiyos'. It should have read 'read his own…'. The article has been updated to reflect this change.