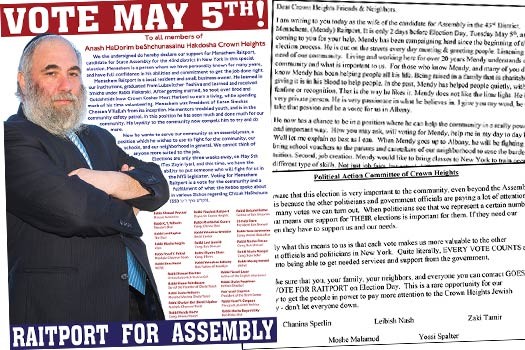 Raitport Snags Dozens of Endorsements in Crown Heights
Ahead of the upcoming special elections for the New York State Assembly seat vacated by Karim Camara, Mendy Raitport received dozens of endorsements from the Crown Heights Political Action Committee as well as many community rabbis.
A list of 28 neighborhood rabbis and activists fill one flyer all calling for residents to turn out and vote for Raitport, along with an endorsement from the Crown Heights Political Action Committee.
Raitport, a longtime Crown Heights resident and storeowner, is running on the Republican and Conservative party lines and thanks to a snafu will be unopposed on the democratic ticket. "[Raitport] has a chance to win on the Jewish vote along" said an insider, "his reaching out beyond the community will further help his chances."
Elections take place on Tuesday, May 5th, and poll sites open as early as 6:00am and close as late s 9:00pm. Click Here to search for your poll site and voting times.