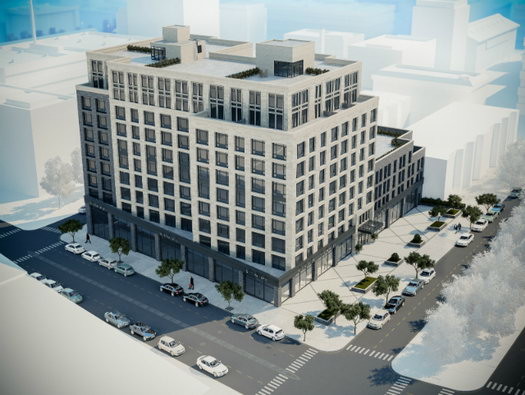 133 Apartment Building to Replace Pkwy. Gas Station
An Eastern Parkway gas station, which was sold for $32,500,000 in the beginning of the year, will be demolished to make way for a 133 unit apartment building – complete with nearly 15,000 square foot of commercial space.
The massive expanse of land, which has over 500 feet of wrap-around frontage, located at 1525 Bedford Avenue on the corner of Eastern Parkway, was purchased by real estate developer Adam America Real Estate for $32.5 Million in January of this year.
This lot was the beneficiary of recent 'up zoning' in the neighboring community board district 8 which gives developers to ability to build 'as-of-right' a massive 110,203 square foot structure to be built, along with incentives which would allow an additional 34,200 square feet of development for a combined total of 144,400 square foot of commercial and residential units to be built.
According to building plans first revealed by pro-development blog New York YIMBY filed by Issac & Stern Architects, show plans for a new eight story residential tower along with wraparound commercial space on the first floor/cellar level.
"According to the building permit application, the project will have 133 apartments – clearly rentals – spread over a bit more than 91,000 square feet of residential space, for an average unit size of just under 690 square feet – about as small as the zoning code will allow for new buildings. The second and third floors will have 28 apartments each, with larger units up top (floors four through six have 17 units each, with 13 on the top two floors)," writes NYYIMBY.
Of the 133 apartments, 20 percent – roughly 27 units – will be designated as affordable and set aside to be rented at below-market rates, according to The Real Deal.
The housing units will sit atop 15,000 square feet of retail space in what is technically the basement and cellar areas (which explains why the building is technically only eight stories, but appears in the rendering as nine or 10).
Recently construction fencing has been erected, though no demolition of the existing gas station, car wash and oil change facility has begun yet.