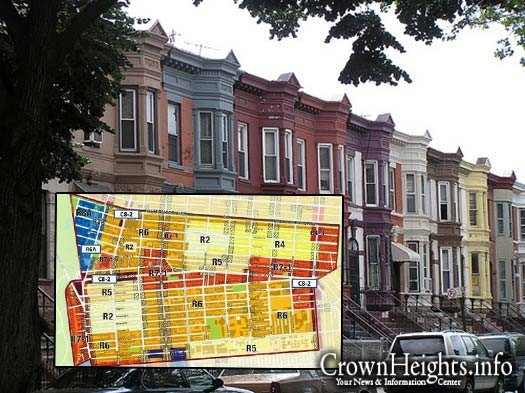 A zoning study which was requested by the Jewish Community Council and meant to explore the possibility of improving conditions for Crown Heights homeowners has been the point of much contention. In a strongly worded letter the JCC decries the fact that the proposal has been drastically changed from the initial proposal and has spawned racist and hate-filled debate between residents and activists opposed to any zoning change.
In a letter from November 2013 members of the Crown Heights Jewish Community Council sent a letter to then-chairman Jacob Goldstein requesting that a zoning study be conducted, which would explore the possibility of up-zoning certain R-2 restrictions up to R-6 which would make it easier to obtain permits and maximize living space for homeowners.
Since the proposal has been submitted, it has been the source of much contention and debate, even rising to levels of racism and hate-mongering, all while being repeatedly changed to the point where none of the original proposed zoning areas have been completely omitted.
"Basically the zoning study right now paves the way for developers to build skyscrapers along Empire Boulevard and fill their pockets from tiny luxury apartments that would not cater to any of the existing demographics within the community" a source told CrownHeights.info.
Currently the proposed zoning study will include an area stretching from New York Avenue to Flatbush Avenue and from Eastern Parkway down to Clarkson Avenue – which includes little to no part of the predominantly Jewish area of Crown Heights.
Tomorrow, February 4th, the ULURP [Uniform Land Use Review Procedure] Committee is scheduled to meet and on the agenda is a proposed rewrite of the resolution calling for the zoning study. Ahead of this meeting the CHJCC has sent a letter to Community Board 9 imploring them to re-include the original portions of the neighborhood which were omitted from the study [see below].
The meeting is scheduled to take place Tuesday, February 4th at 7:00pm in the auditorium of S. Francis DeSales School, 260 Eastern Parkway on the corner of Classon Ave and is open to the public.