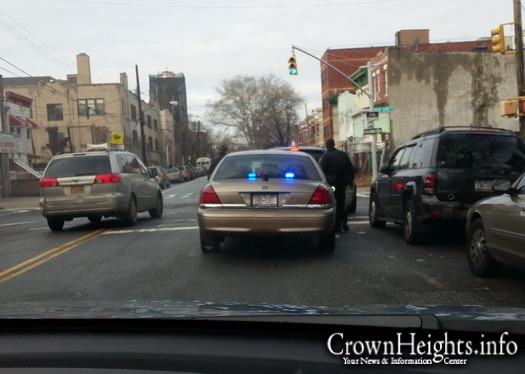 Undercover cops issuing tickets on East New York Ave. between Kingston and Brooklyn Aves.
In a clear sign that the unofficial 'work slowdown' by NYPD officers had come to an end, cops have been out in force in Crown Heights giving tickets for driving and parking infractions.
One favorite spot for the ticketers is on East New York Avenue between Kingston and Brooklyn Avenues – which is a poorly marked 'slow zone' in which driving above 15 miles per hour is illegal.
Two undercover police officers in an unmarked squad car sit and wait for drivers to 'speed' above 15 MPH, and immediately pull them over and issue a summons.
Additionally, as we have reported in the past, cars making a right turn from Brooklyn Ave. onto Lefferts Ave. – which is illegal between the hours of 8:00-10:00am and 3:00-5:00pm on Monday through Friday – are a favored target for officers who need to meet their monthly ticket quotas.
The alleged reason for the slowdown was a dispute between Mayor De Blasio and the police union over his perceived lack of support for the officers following the chokehold death of Eric Garner and the subsequent killing of two officers in Bed-Stuy. The slowdown reportedly threatened the city's coffers, which heavily relies on revenue from tickets, fines and cash seizures.