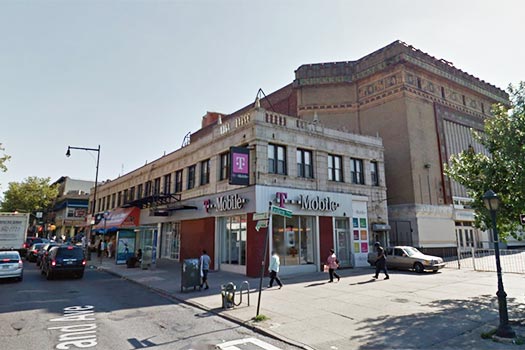 The site of the proposed building project, Eastern Parkway and Nostrand Avenue. Photo Google Maps.
Building applications have been filed with the city's Department of Buildings with plans to demolish an existing building on the corner of Eastern Parkway and Nostrand Avenue, and build a seven story apartment building in its place.
The application was filed on September 30th and was first spotted by pro-development blog New York YIMBY. The application calls for the demolition of 834 Nostrand Avenue, a two-story building – which was built in 1909 and contains two residential units and six commercial units – in order to make way for a seven-story, 33,505 square-foot residential and commercial building.
Plans were filed by SWA Architects on behalf of the building's owners, David Escava of Helm Equities – who acquired the property in 2008 for $2.4 Million.
Filing plans include an automated 18 car parking garage and cellar for bike storage, above which will be commercial space, a 'community space' and five stories of residential unit ranging from 800 square-feet to 1,200 square-feet and a rooftop recreational area.
This project will follow the recently complete one at 341 Eastern Parkway, on the corner of Franklin Avenue, which has apartment rentals starting at over $2,000 for a studio apartment all the way up to and beyond $4,000 a month.
This project stands across the street from 542 Eastern Parkway, which was purchased for just over $2 Million by Crown Heightser Shimon Liani in 2007, and was renovated to include 12 resident units and one commercial unit which is occupied by Dunkin' Doughnuts