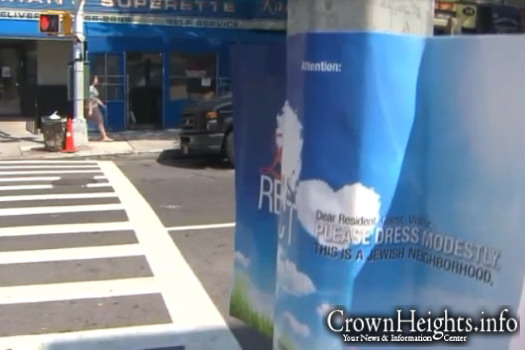 Controversy Erupts Over Signs Asking for Tznius
A minor brouhaha is playing out in local media over signs that have been popping up around Crown Heights, asking "residents, guests and visitors" to dress modestly, as it is "a Jewish neighborhood."
The signs were first reported by a blogger for The Gothamist, who took great offense from the seemingly innocuous and politely worded sign, calling it "demanding" and "pushy."
On Sunday morning, a reporter for local news outlet Pix 11 walked up and down Kingston Ave. interviewing residents – both Jewish and non-Jewish – on their reactions to the signs.
The reactions varied slightly:
One Rabbi told PIX11 News he agrees with the signs.
"A woman should cover up, she doesn't have to display what she's got," he said.
But on a hot summer afternoon a woman wearing a short skirt and halter top told PIX11 the Orthodox community should show tolerance and accept others for who they are especially when it is hot outside.
Elisheva Schwartz, who is Orthodox says she is offended by the signs.
"I think it is very important we don't inflict our views on everyone."
Schwartz said it's the diversity that makes Brooklyn so great.
On a Facebook group populated by members of the Crown Heights Orthodox-Jewish community, a post about the signs received a wide and diverse array of responses from commenters.
"'This is a Jewish Neighborhood' is claiming ownership and exclusion to others; [is it] covered in the First Amendment?" wrote one critic. "It is discriminatory."
Others commenters were critical as well:
"The issue with the signs, is that they do no good. It's not as if anyone is going to change the way they dress because of a sign. Instead, it makes the entire community come off as self-absorbed and arrogant. Just read the comments."
"These signs are offensive and rude in any neighborhood and they hurt the people more that have a nisyaon in tznius. It makes them, go more off. If the tznius cops worried about dressing like ladies and not like shlubs then young people would have who to look up to…. Those signs turn off the Machon Chana girls new to Yiddishkeit, the girls from Beis Rikva who are struggling and people like me who gets so frustrated with the word tznius bc I believe people should live it and not talk about it."
On the other hand, several commenters outright supported the effort, while others said they had no problem with them at all:
"What could possibly be your problem with them asking people to dress modestly? I agree it is pointless and none of anyone's business, but what is the possible negative impact of this sign? If anything this is a beautiful example of freedom to express themselves."