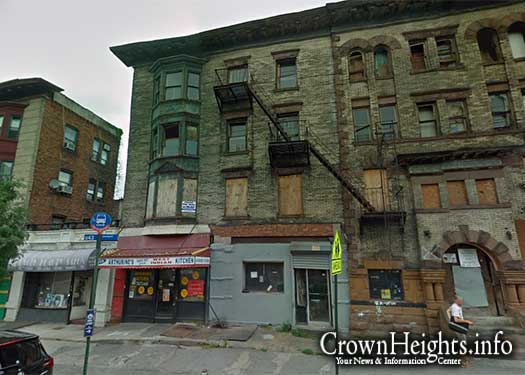 115 Kingston Avenue, the site of the proposed new restaurant. Photo: Google Maps.
Basil Owner to Open 'Meat'
Rumors have been swirling recently that the owner of Basil Pizza & Wine Bar, an upscale dairy restaurant in Crown Heights, plans to open an sister restaurant that will serve fleishigs. After speaking with Daniel Branover, the owner of Basil, we can now confirm that the rumors are true.
Branover said the new restaurant will be named 'Meat.' It will be located in a building he just purchased on Kingston Ave. off Bergen Street in Northern Crown Heights.
The newly purchased building, 115 Kingston Ave., is in dilapidated condition and requires extensive renovation, which is set to begin shortly.
"There is no time frame yet for when we can expect the new establishment to open its doors," Branover said.
Sources told CrownHeights.info that the new restaurant will serve Southern style food, such as smoked barbecue and other grilled fare.