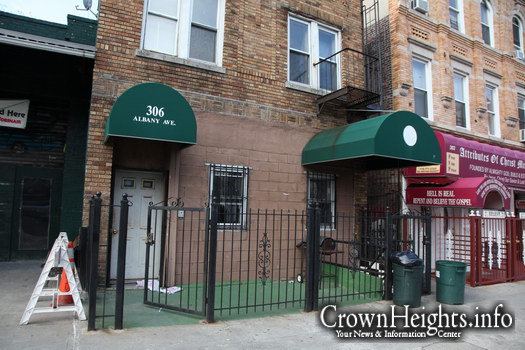 The newly contracted building on Albany Ave. near Lincoln Pl.
Chevra Ahavas Yisroel has just signed a contract on a two story building to permanently house their congregation. They will complete the purchase as soon as they raise the necessary funds.

The Shul has been hitherto congregating in Moshe Rubashkin's basement on President Street.
Sources tell Crownheights.info that the Shul was originally engaged in talks with the Eliyahu Nochum Shul on Crown Street, which has been deteriorating for quite a while and would have done well with a vibrant young congregation to revitalize it, but the deal fell through and CAY had to continue their search for a new home.
CAY agreed to purchse this building from a Lubavitcher for about $600,000. They hope to eventually convert the entire building into one large Shul.
The Shul will be the very first Jewish-inhabited building on that block. Flanked by a chuch on one side and an auto repair shop on the other, the building was plagued with squatters and neglect for many years.
The Shul is about 2 blocks away from a cluster of Jewish housing further up Albany Ave., near Reb Itchke's Shteibel. The whole area is undergoing rapid transformation, and the Shul will be the latest step in the gentrification of the neighborhood that is happening at a rapid pace.