William Sherman – NY Daily News
The article as it appears on the home page of the Daily News
CROWN HEIGHTS, Brooklyn — More than 40 Brooklyn families face eviction and foreclosure on condos they bought from a developer who pulled off a massive swindle and then fled the country.
The families, all Hasidim from Crown Heights, paid developer Eliyahu Ezagui – one of their own – for the apartments before they were built at two sites: 770 Lefferts Ave. and 613 East New York Ave.

"We trusted him, we thought we knew him, he told us he had the blessing of the grand rabbi. We had contracts, so we gave him the money," said Jeff Minsky, who lives at 613 with his wife and six children.
Ezagui, 47, did not give the buyers deeds when construction was completed in what is the single biggest local case of subprime mortgage fraud on record.
Instead, Ezagui deeded 64 apartments to himself, his father, his mother, his wife and two business associates.
The Ezagui group then used the deeds to take out more than $15 million in owner-occupied mortgages from 15 lenders, including Ameriquest Mortgage Co., Olympia Funding and Chase.
Mortgage payments have not been made and the real apartment owners have received foreclosure notices.
"I had every intention of transferring the deeds to the investors, but the project didn't work out," said Ezagui, now living in Jerusalem with his wife, Reina, and four children.
In a telephone interview, Ezagui said he obtained the mortgages, including 13 in his mother's name, to pay off more than $3.3million in loans he took out to finance construction of the two buildings.
When he couldn't sell all theapartments immediately, he said, he took out more loans and mortgages to continue financing the project.
"I hurt my parents, my family and I destroyed everything," said Ezagui. "I was stuck and it hurts and I feel sorry for those people."
Ezagui said he was a trusted man in the close-knit Crown Heights community. Apartment buyers interviewed agreed and said because of that trust, they had no lawyers when they signed their purchase agreements.
"We were stupid. We should have had lawyers. We know that now, but we believed him," Minsky said.
Ezagui portrayed himself as a devout man and played on the religious sensitivities of the apartment purchasers, all members of the Lubavitcher Hasidim.
For example, the late Lubavitcher leader, Grand Rebbe Menachem Schneerson, is thought by many followers to be the Messiah. Ezagui named his building's corporation Chaisom Inc. Chaisom, which means "live here," is also Mosiach – Hebrew for Messiah – spelled backward.
And the addresses he chose, 770 and 613, have religious significance: 770 Eastern Parkway is Lubavitcher world headquarters; 613 is the number of laws God gave Moses.
Over the years, the apartment buyers learned Ezagui had a life outside Crown Heights. He owned a house in Miami, where his wife and children lived, and was chief executive of 12 corporations, records show.
"He was living the Hollywood life down there when he wasn't here – big car, fancy clothes, the works," Minsky said.
Apartment owners began moving into the buildings in 2000. The foreclosure notices started to show up in 2007.
Jakov Osdoba, a teacher and rabbi who lives at 770 Lefferts with his wife and seven children, said he paid Ezagui $100,000 about 10 years ago "because he said he would help me so I could have a home and raise a family."
"Then we moved in and when I asked Ezagui for the deed, he was evasive. He said, 'Give me time, I have to work things out,'" Osdoba said.
On Jan. 18, Osdoba received a foreclosure letter stating that Ezagui's mother, Freha, had defaulted on a $277,824 mortgage taken on his apartment.
"I was shocked. I never met Freha Ezagui," Osdoba said. "I haven't told my children what's going on. I don't have the money to pay this mortgage. Where can we go?"
Schneur Hertzel, married with five children, paid $100,000 for his three-bedroom condo at 770 Lefferts. Somehow Freha Ezagui obtained a $370,000 mortgage on the premises.
"No appraiser ever came here, nobody rang the bell," said Hertzel, a teacher.
As word of the pending foreclosures heated up in the community last summer, Ezagui abruptly left for Israel.
"I'm bankrupt," said Ezagui. "I would come back [to the U.S] if I could straighten this out."
David Frankel, Ezagui's lawyer and a vice president of Chaisom, denied all liability for himself. He said he was at the mortgage closings, but claimed he did not draw up the original purchase contracts.
Ezagui said Frankel did draw up the contracts, knew of the multiple mortgages and handled the closings.
Last year, more than 20 apartment owners hired lawyer Robert Tolchin to fight foreclosure and press claims against the lenders and the Ezaguis.
"Ezagui was running a Ponzi scheme," Tolchin said. "The real apartment owners are left holding the bag."
As was true nationally, the swirl of easy mortgage cash found in the Ezagui case occurred with little government oversight.
Fourteen months ago, lawyer Marshall Schiff detailed the scheme in a three-page letter to Kenneth DeMario, head of the state attorney general's Real Estate Financing Bureau. Schiff asked the state to intervene.
There was no investigation. According to Tolchin, DeMario said his bureau had no investigators to do the work.
Last week, a spokesman for the state attorney general told the Daily News that prosecutors are looking into the matter.
"Adding it all up, the banks, brokers, the lack of regulation, and trusting buyers – it was the perfect storm for a swindle," Tolchin said.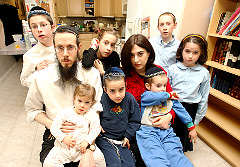 'Where can we go?' asks Jakov Osdoba. He and wife, Miriam – along with their seven kids – are facing eviction from 770 Lefferts Ave. (below)
Theodorakis/News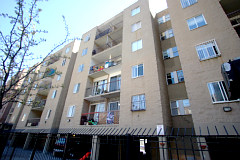 Theodorakis/News