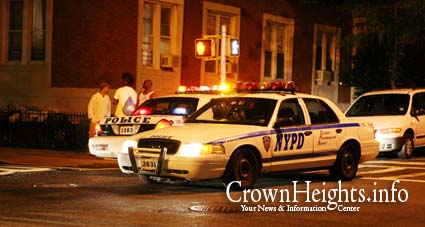 Police at the scene of an incident – illustartion photo.
CROWN HEIGHTS, Brooklyn [CHI] — Thursday night at about 12:30 AM, two Bochurim walking on New York Ave and President St were accosted by a Black male who said to them "You know what this is" and shoved one of the Bochurim against a fence while pulling out a knife at the other demanding money.

One of the Bochurim managed to dial 911 during the incident and when the perpetrator noticed he began to flee.
Police arrived on scene within moments and took one of the victims for a canvass in the area. Shomrim members arrived moments later and assisted in searching for the perpetrator. The search yielded no results.
If you see something say something, do not hesitate to call Shomrim at (718) 774-3333 24/7