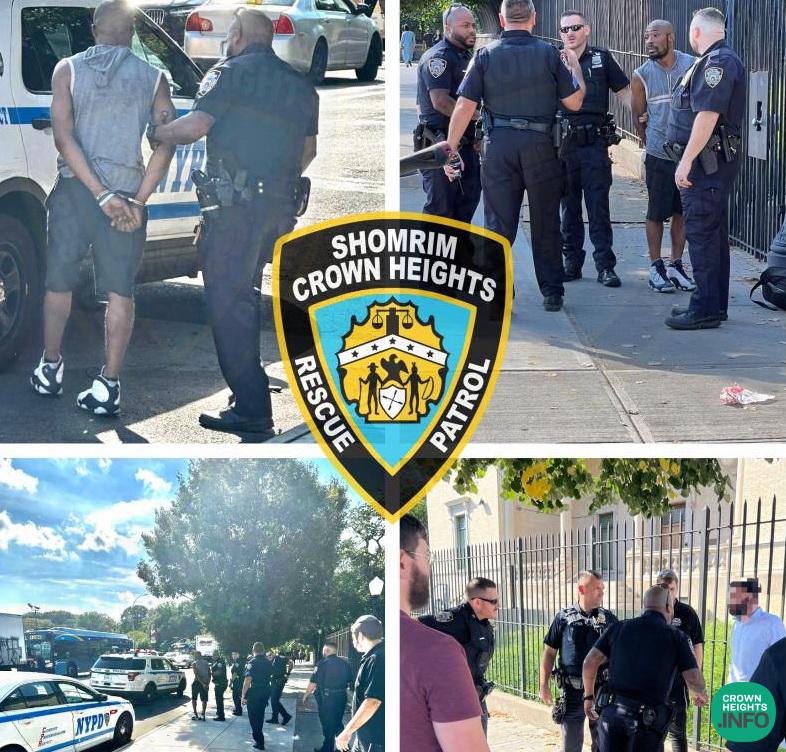 Thug Arrested In Crown Heights After Attacking A Lubavitcher Without Provocation
by CrownHeights.info
One call to Shomrim, a fast response, and another person who attacked a Jew in an unprovoked assault was under arrest in Crown Heights.
The incident went down in the area of Empire Blvd and Bedford Ave Tuesday afternoon when a Lubavitcher was on talking on his phone and minding his own business. Another man in the area was apparently having a bad day and decided to take it out on the unsuspecting Jew.
Without much warning, the male assailant kicked out at the Lubavitcher, who barely managed to jump away from the worst of the attack, taking the kick on his leg.
Without waiting, a call was made to Crown Heights Shomrim who jumped into action. Multiple Shomrim volunteers rushed to the scene and were able locate the assailant. A call to 911 was also made and within a short time the police arrived to find the Shomrim volunteers easily able to point out the perpetrator and provide a video of the attack alongside the victim's testimony.
"Our vols responded for an assault that took place on the outskirts of CH," Crown Heights Shomrim wrote on Social Media. "Thanks to a fast response, we were able to locate the perp and facilitate his arrest in collaboration with fast responding officers from @NYPD71Pct. From call to collar in under 10 min."
It was an open and shut case with the perpetrator being cuffed and now having to face his crimes. Apparently, the perpetrator had made things even more difficult for himself by kicking another person as well. Regardless, he now has to explain himself to a judge and hopefully spend some time thinking about his actions.