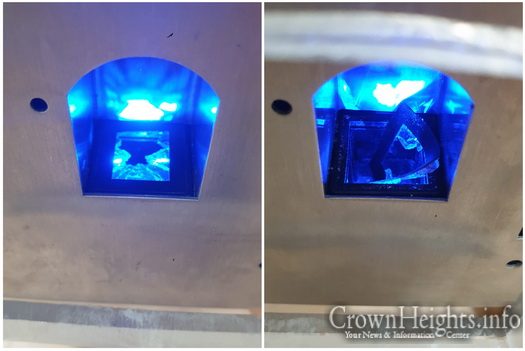 by CrownHeights.info
A masked Lubavitch teenager struck again this past shabbos, blatantly breaking the shabbos and destroying the turnstile installed in the 1414 President Street dormitory lunchroom.
After an almost identical incident three weeks ago, a masked teenager returned in the early hours of shabbos morning to the basement of the Central Lubavitcher Yeshiva's dormitory, and used a tool to destroy the fingerprint reader installed in the lunchroom turnstile.
The blatant breach in the sanctity of the shabbos is believed to be perpetrated in an effort to stymie the Yeshiva's attempt to restrict access to the lunchroom to bochurim enrolled in the Yeshiva.
Prior to the turnstiles installation, an estimated 100 people not enrolled in the yeshiva were eating daily meals in the yeshiva dormitory, leaving many legitimately enrolled bochurim without food and costing the yeshiva hundreds of thousands of dollars a year.
In the incidents leading up to the previous vandalism, the group had called 911, telling them that there was a person trapped inside the lunchroom. According to someone who was there at the time, the firefighters who responded learned that the teenagers goal was to simply have them break the turnstile, and declined to do so.
Following the last vandalism, the yeshiva turned to the police, telling CrownHeights.info that they had been granted permission to do so by Rabbonim.
Despite the attempt to have these boys arrested for their crime, the investigation has apparently turned up nothing, and the perpetrators continue perpetrate their crimes.
Another attack took place this past Tishrei on Rabbi Chaim Boruch Halberstam, who takes care of upstairs 770, with the entire physical assault recorded on video.
Despite this, along with many other recorded vandalisms of 770, these bochurim continue to have a near blanket immunity, seemingly including one from the NYPD's 71st Precinct which has jurisdiction over much of Crown Heights, including 770 and 1414 President Street.
Administrators of the Yeshiva were unavailable for comment at the time of the publication of this article.