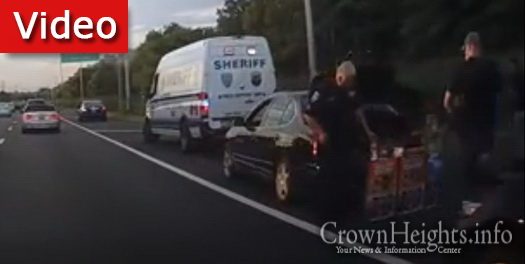 by CrownHeights.info
Another Fireworks shipment bites the dust.
An interesting scene unfolded on the side of a Staten Island Highway Sunday evening, as plainclothes officers and New York City Sheriffs made a traffic stop and fireworks bust.
Boxes of fireworks removed the vehicles trunk could be seen stacked on the side of the road in dashcam footage given to CrownHeights.info.
The bust appears to be part of the mayors attempt to stem the constant flow of fireworks into New York City, where fireworks complaints have skyrocketed, and residents have gotten fed up.
A number of residents reached the boiling point after nearly two weeks of feeling like they were living in a "war zone," and took some of the noise to the mayors residence at Gracie Mansion. The protesters came late at night, honking their horns, and creating a ruckus that elicited a response from the mayor.
The next day, the mayor announced the opening of a new multi-department unit that would be focused on stopping the supply of the fireworks.
Want to receive live updates and Breaking News for Crown Heights and the Chabad world directly to your Whatsapp? Sign up for CrownHeights.info's whatsapp updates.
Simply save our number 718-285-8000 to your contacts and send us a message.