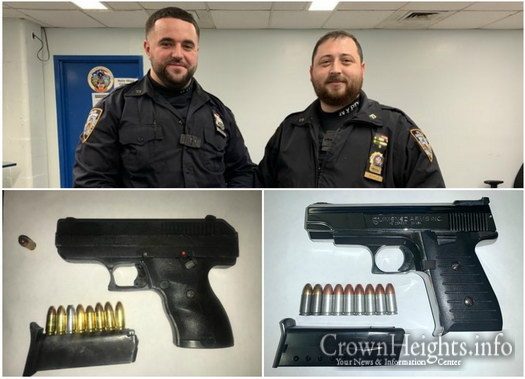 by CrownHeights.info
The 71st police precinct, which covers a majority of Crown Heights, reported the seizure of two guns from the streets this week.
The first took place during the night hours, when the Field Intelligence Team made an arrest and seized the gun while following through on a search warrent.
The second gun was seized after two officers, Training Officer Det. Boyle and Officer Radoncic responded to a call of a man with a gun. The two were able to chase down the perpetrator and made an arrest. The gun was recovered and taken off the streets.
While you were sleeping our Field Intelligence Team took this illegal firearm off the streets during a successful search warrant. #onelessgun #keepingnycsafe #71FIO pic.twitter.com/U3b08AnDDp

— NYPD 71st Precinct (@NYPD71Pct) February 11, 2020
After responding to a call of a man with a gun training officer Det. Boyle and Officer Radoncic chased down the perpetrator and made this gun arrest. #onelessgun #nypdprotecting #attaboy pic.twitter.com/XNX3Vi5jud

— NYPD 71st Precinct (@NYPD71Pct) February 12, 2020