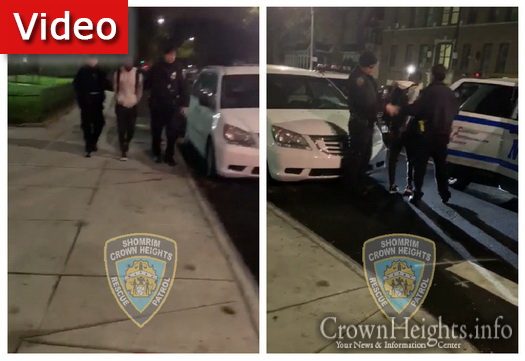 by CrownHeights.info
A robbery took place in Crown Heights around Midnight Thursday night, as a woman walked on a central Crown Heights street.
The victim, a Jewish woman, was walking near the corner of Crown Street and Albany Ave when she was approached from behind by a black male wearing a light colored hoody.
The woman attempted to struggle with the robber, as he managed to take her phone, credit card and student ID.
The victim ran down Albany Ave to Montgomery where she found a couple whom she asked for help. While one phoned the police, the other called Shomrim.
Shomrim and the police quickly responded to the scene, and began conducting a canvass of the nearby area.
With the help of the Find My iphone app, the robber was located in front of a building on Lefferts Ave and Troy Ave, where he was attempting to stash his loot.
The police arrested the robber and recovered the Credit Cards and ID, but not the Iphone.
As the victim worked with the police regarding the robbery, Crown Heights Shomrim continued to search, and eventually located the missing iphone stashed on a windowsill of the corner building.
A Crown Heights Shomrim coordinator commended the officers of the 71st Precinct for their quick and professional response. Thanking them for the great collaboration during the incident.
Thanks to great #collaboration and quick response by @NYPD71Pct officers and our Vol, one UNDER for mugging and robbing a brand new iphone and cc's and ID. Our Vol were able to recover the iphone due to the find my iphone feature #ItsWhatWeDo #Shomrim pic.twitter.com/bTDDBjGODw

— CH Shomrim (@ShomrimCH) November 8, 2019