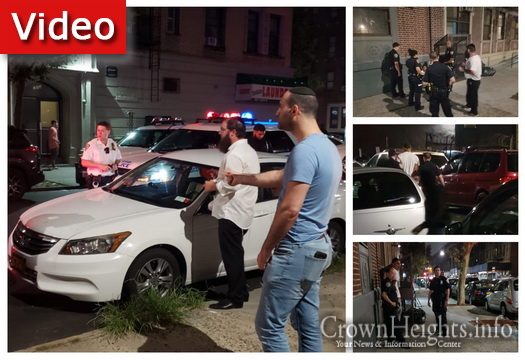 One person was arrested and another is at large following a police pursuit in Crown Heights. The two had broken into a school bus, stolen a fire extinguisher and discharged it into shops on Kingston Ave.
by CrownHeights.info
Within an hour of the conclusion of Shabbos, Willimasburg Shomrim received an emergency call, reporting two suspects vandalizing a Jewish school bus in Crown Heights.
Crown Heights Shomrim was alerted, and volunteers responded to Carrol St and Troy Ave, where the two suspects had stolen a fire extinguisher.
Shomrim volunteers followed as the suspects made their way across the neighborhood to Kingston Ave and Union St. While one opened the door to Sweet Expressions, a local ice cream shop, the other discharged the fire extinguisher, filling the entrance way with a cloud of foam.
They then continued on to Nori Bar, a local eatery, where they repeated their act of vandalism.
While waiting for the police to arrive, Shomrim continued to follow the suspects as they made their way along Carrol Street towards Utica Ave. As the police caught up with the suspects on Carrol Street and Schenectady Ave, the two split up, and began to run.
One suspect was caught by the police on Union St and Schenectady Ave following a pursuit. The second suspect initially evaded the police.
Shomrim continued the search and located the suspect on Rochester Ave near Eastern Parkway. The police were notified, but prior to their arrival, the suspect slipped into a building and remains at large.
Thanks to a great response by our Vol and good #collaboration with @NYPD71Pct one UNDER for stealing a fire extinguisher from a bus and spraying it in multiple eateries #ItsWhatWeDo pic.twitter.com/lwhdAEHnt1

— CH Shomrim (@ShomrimCH) August 18, 2019