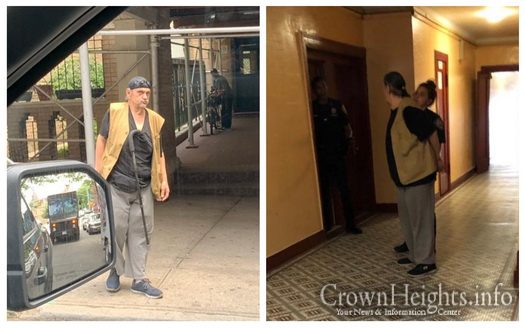 A man was arrested Friday afternoon after touching a Jewish woman inappropriately on Kingston Ave. The man was arrested after Shomrim, alerted to the unwanted touching, followed the man into a building, and directed the Police right to him.
by CrownHeights.info
A Jewish woman was touched inappropriately on Kingston Ave around 1:00pm Friday afternoon, starting a search that ended with the man under arrest.
The woman had been walking up Kingston Ave when a man, described as wearing grey pants a khaki vest and long hair, touched her inappropriately. Shomrim was called, and a group pf volunteers began searching for the man.
A sharp eyed volunteer found a person matching that description, and after confirmation from the victim, the police were called.
The man walked his way into a building on the corner of Kingston Ave and Lefferts Ave, and entered an apartment.
When the police arrived, they knocked on the apartment door, and arrested the man for forcible touching.
We received a call for a male that inappropriately touched a female. Our Vol canvassed the area and were able locate him alerting @NYPD71Pct who made the arrest for forcible touching #ItsWhatWeDo #collaboration pic.twitter.com/dpQCuRvUDv

— CH Shomrim (@ShomrimCH) July 12, 2019