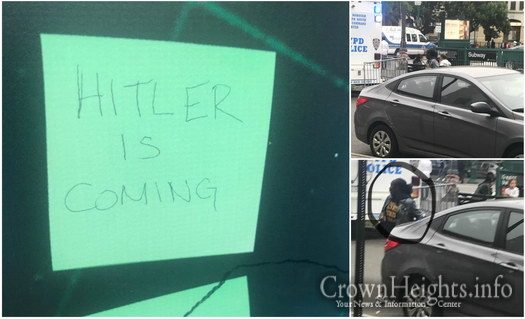 A mural set up outside the Jewish Children's Museum in Crown Heights was defaced Thursday with a blatant anti-Semitic message. The incident is being investigated as a possible hate crime.
by CrownHeights.info
A mural where people are able to place sticky notes with their good deeds was defaced with an anti-Semitic message Thursday. The mural, located outside of the Jewish Children's Museum, is situated on the highly trafficked corner of Eastern Parkway and Kingston Ave.
The note with the words "Hitler is Coming," was allegedly placed on the wall by a black teenager at around 5:30pm Thursday.
The note was discovered immediately, and photos taken of the person who allegedly placed the note.
The incident was reported to the police, who are looking into it as a possible hate crime.
This is just awful.
An interactive sign in front of the the Jewish Children's Museum in Crown Heights asking people how they would transform the world was defaced with Antisemitic graffiti! pic.twitter.com/mP66xPKIYH

— Mordechai Lightstone (@Mottel) May 30, 2019
The good resolution mural hanging outside Jewish children's museum in Crown Heights was defaced with "Hitler is coming note". Witnesses say note was left by an African American teenager. What went wrong with Crown Heights!? What is happening? What's wrong with our society? pic.twitter.com/HRXZhhgznt

— Yaacov Behrman (@ChabadLubavitch) May 30, 2019