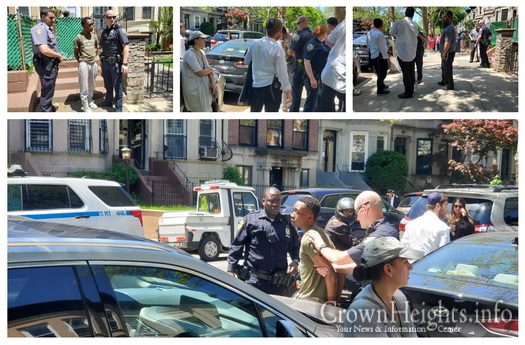 One man was taken into custody by the police Monday after Shomrim caught him red handed breaking into cars on President Street. The man, who was being watched after other attempts to get into cars, was completely unaware of the volunteers watching.
by CrownHeights.info
Monday around noon is perhaps not the smartest time to attempt to break into cars in Crown Heights, but one man attempted to do so anyways. A tip to the Shomrim hotline alerted nearby Shomrim volunteers, who began watching him as he tried door handles and looked into cars.
The volunteers were watching as he found his target and broke into a car near President St and Kingston Ave. 911 was called, and the police arrived, placing him under arrest.
Shomrim reminds everyone to make sure your vehicles are secured and locked. Make sure there are no valuables, including tefillin, left in in sight in your vehicle.
Our Vol responded to a call for a subject pulling car handles. After our #EyesAndEars observed him breaking into a vehicle on President Street he was placed UNDER arrest. Great #Collaboration with @NYPD71Pct #ItsWhatWeDo pic.twitter.com/qJA9SHR4qY

— CH Shomrim (@ShomrimCH) May 27, 2019