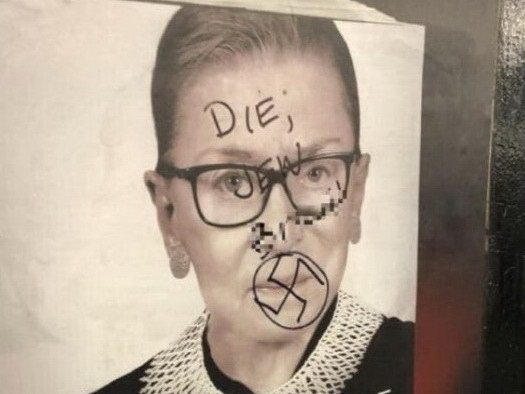 The rise in Hate Crimes in NYC seems to continue, as yet another disturbing incident is being investigated on Wednesday afternoon.
The NYPD Hate Crime Task Force says they are currently investigating anti-Semitic vandalism at the Nassau Ave Subway Station on the G line. As can be seen in the attached image, an ad with a photo of Supreme Court Justice Ruth Bader Ginsburg was defaced with a swastika and the words "Die Jew (expletive removed)".
Multiple people contacted the NYPD regarding this incident, including one Jewish woman on Twitter named "Chevy Friedman". Brooklyn Boro President also contacted the NYPD.
The NYC Transit Twitter account responded to her with a short statement on social media:
"We're terribly sorry your friend and our other customers at Nassau Av had to see this abhorrent vandalism. We have zero tolerance for hateful imagery anywhere in our system and will ensure that's removed as soon as NYPD personnel have concluded their investigation.
"Following up with an update: that offensive imagery was reported yesterday, and our crews removed it immediately after NYPD had collected evidence for its investigation. Again, we regret that our customers were exposed to this hate speech, and thank you for notifying us."
So far this year, 40 anti-Semitic crimes have been reported in the city compared to 21 at this time last year.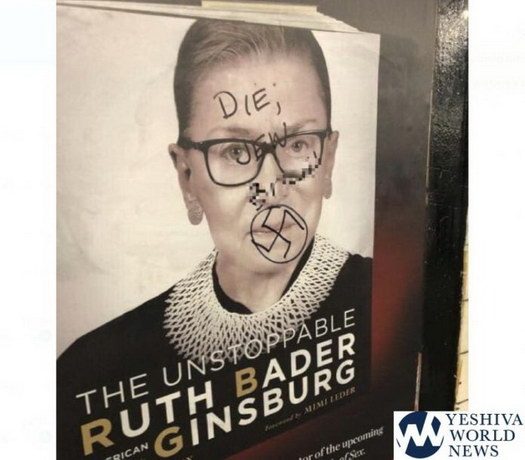 Ruth Bader Ginsburg represents the very best of our city.

We'll find whoever is responsible for this anti-Semitic trash and ensure they face consequences for trying to spread hate in New York City. If you have any information on this despicable act, please contact the NYPD. https://t.co/qff5nV7OE1

— Mayor Bill de Blasio (@NYCMayor) March 13, 2019
Hate Crime Task Force is currently on scene investigating ANTI-SEMITIC vandalism at the Nassau Ave station on the G line. Thank you to all community members for alerting the NYPD.

— NYPD Hate Crimes (@NYPDHateCrimes) March 13, 2019
Thank you @BPEricAdams and @Chevi_F for bringing this abhorrent incident to our attention. Detectives from @NYPDHateCrimes are working with @NYPDTransit and will be conducting a full investigation. As always, NYC has no place for hate. @NYPDnews @NYPDDCPI

— Chief Dermot F. Shea (@NYPDDetectives) March 13, 2019